K

umulativt registreringsprogram /

Cumulative recorder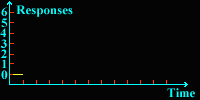 Video - How to use my cumulative recorder program.
Det kumulative registreringsprogrammet, som jeg har laget, er basert på de mekaniske registreringsapparatene som B. F. Skinner utviklet. Skinner brukte registreringsapparatet for å registrere respons rate av bl.a. duers atferd. Mitt kumulative program har to kurver som løper samtidig, slik at to forskjellige responser kan registreres. Det er også mulig å sette merknads streker på hver av kurvene. Dette kan være nyttig for å markere en spesiell hendelse som kan ha betydning for registreringen. Dette programmet er nærmeste å regne som antikt. (Jeg laget det i 1987 på en 286 maskin. Programmet fungerer utrolig nok på en moderne XP-maskin. Jeg får den ikke til å kjøre i et vindu, så det tar hele skjermen. Kanskje jeg skal lage et Windows-versjon?)
This program is based on the mechanical cumulative recorders the psychologist Dr. B.F. Skinner developed. Skinner used the cumulative recorder for recording the rate of responses of animals like pigeons.My recorder has two curves that run continuously, so that two responses can be recorded simultaneously. Marks can be placed on both curves to indicate events and record when they occurred. This program is almost an antique. I was made it in 1987 on a 286. It runs under XP however it seems to only run full screen. This program can be useful for analysis of video recordings of behaviour.
Her er noe om kumulativ registrering i en videofilm fra min vernepleiehovedoppgave "Fortolkninger av forsterkningsbetingelser" fra 1986.
Video sequence about cumulative recorder (in Norwegian) is from my post-graduate thesis 1986.

Tilbake til programmer.